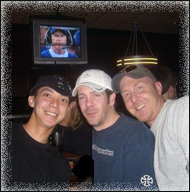 Down Goes Cancer was conceived in April 2009. Several friends, reeling from the recent loss of their great friend, Joe Mak, were gathered around a kitchen table, discussing how they could honor the memory of a man who attacked life and spread joy to all he met. The idea of a memorial foundation was suggested, but that concept seemed too daunting to a group of people with full time jobs, families, and no collective experience in non-profit management or fundraising.

However, when we conducted some preliminary research and delved into the realities of lung cancer, we realized that too many people suffer and perish from this unforgiving disease. Furthermore, funding for research into new treatments is astonishingly deficient and public education about the scope of those affected is inadequate. The truth about lung cancer is too compelling and important a story to continue to be swept under the rug.

On May 11, 2009, the board of Down Goes Cancer – The Joe Mak Memorial Foundation conducted our first meeting. We agreed on one important principle to guide our efforts and decision making – What would Joe Mak do? Joe Mak was many things – an amazing son, brother, husband, father, and friend. But at his core, he was a social director, always ensuring that those around him were enjoying themselves. As a rule, DGC seeks to implement its mission in a manner that also honors Joe's spirit by fundraising through a wide array of events that bring community members together and keeps them entertained.

Down Goes Cancer - The Joe Mak Memorial Foundation is a non-profit, charitable organization that endeavors to honor the memory and spirit of Joseph Makovetz through efforts to raise awareness of lung cancer, offer support to organizations that research new treatments and cures for this disease, and enrich the lives of cancer sufferers and their families...more information