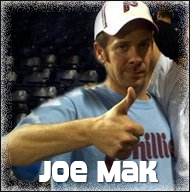 Down Goes Cancer is 100% run by volunteers. The board of directors donate their time to drive awareness, raise funds, and lead the foundation.

The board strives to meet the organization's mission by hosting various fundraising events throughout the year. Proceeds will benefit local Montgomery County families suffering from the burdens of cancer, and lung cancer research organizations to help prevent and work towards a cure.

Click here to shop our online store. All proceeds go to the Down Goes Cancer - The Joe Mak Memorial Foundation.



Click here to make a donation through PayPal.

Down Goes Cancer - The Joe Mak Memorial Foundation is a non-profit, charitable organization that endeavors to honor the memory and spirit of Joseph Makovetz through efforts to raise awareness of lung cancer, offer support to organizations that research new treatments and cures for this disease, and enrich the lives of cancer sufferers and their families...more information